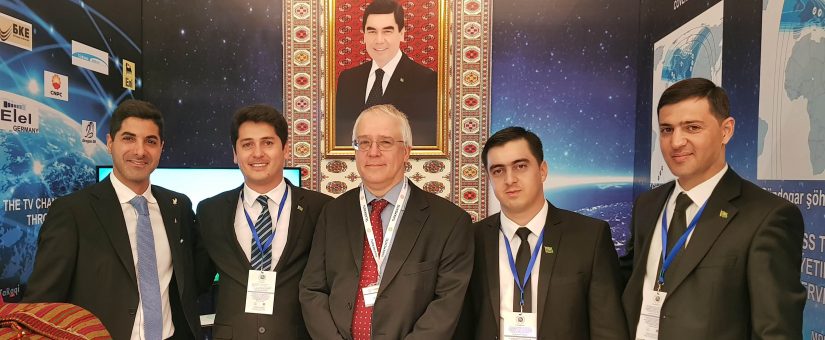 Ashgabat, Turkmenistan, 9 May 2019– Wide Network Solutions, one of the world's leading satellite service providers and CJSC Turkmen Hemrasy – the operator of Turkmenistan's national communication satellite, have signed several agreements for the implementation of DTH services at TurkmenAlem52°E.
In accordance with the current and new agreement, Wide Network Solutions uses the capacities of the East and West beams of TurkmenAlem52.0E in Europe, Russia, Central Asia and the Middle East for large international broadcasting companies.
After the new agreement was signed, in May 2019, WNS started a new DTH service, featuring several popular TV channels, such as France24, TRT World and NHK Japan.
"What we have achieved together is truly amazing. No one in the industry thought it would be possible. But thanks to our dedicated team and the support of Turkmen Hemrasy,TurkmenAlem52°E is now a well-established satellite with dozens of services from all around the world." – Says WNS Chairman, Peter Cameron.
Despite the vast competition in the provision of satellite services, Wide Network Solutions has managed to become a recommended reliable satellite service provider, especially in the direction of broadcasting. With pride it is possible to say that the majority of TV and radio channels for the audience of the Middle East are broadcast through TurkmenAlem52°E. It should also be noted, that by joint efforts, we plan to achieve high results in order to attract reputable TV channels to the West beam of the communications satelliteTurkmenAlem52°E – noted Batyr Oradurdydyev – director of CJSC "Turkmen hemrasy".
"We couldn't do this without Turkmen Hemrasy", – says Pooya Rad, Wide Network Solutions Director of MENA. "Turkmen Hemrasy's young, talented and ambitious team is a true reflection of the country's spirit to become a major player in the field of satellite communications" – he added